More Necromanicide Info
Song Titles
1. The Descent into Hades - Grindcore/Holy Unblack
2. The Killing Ground - Thrash
3. Hate Regime - Grindcore/Hardcore
4. Society - Industrial
5. El-Maseeh - Intrumental Thrash
6. Who am I? - Thrash
7. Mindwarped - Hardcore
8. Unwanted Killer - Thrash
9. The Last Journey - Grindcore/Holy Unblack
10. Necromancy - Grindcore

Merchandise
1. Underground Scene cassette only (US6.00 *)
2. Hate Regime CD - Necromanicide (US8.00 **) RM35.00
3. Hate Regime cassette - Necromanicide (US5.00 **) RM15.00
4. Necromanicide 'Death to Necromancy' L/S black sleeve (US18.00). Brutal logo red/yellow fiery "Necromanicide" word on front . White "Necromancide" word on sleeve (For long sleeve only). And a list of 5 songs on the back.
5. Necromanicde 'Hate Regime' L/S Black (Full color)T-Shirt (US20.00 ***) RM56.00
6. Necromanicide 'Hate Regime' S/S Black (Full color)T-Shirt (US18.00) RM40.00
7. Necromanicide (1995 demo , 3 songs , cassette only (US4.00)
Please use RM prices (If available else US equivalent) for Malaysian order only
** only available from April 1997
*** Full Color print (Skulls with burning flame)

, please e-mail us at (simon@abs.com.my) for a more accurate pricing. The prices of most of the merchandise above is low but unfortunately the mailling charges are not (we would like to mail everything registered to make sure that you do recieve you goods!). Remember, the prices above include shipment! The prices above are subject to changes (depending on the different shipment charges which may vary from country to country). Please enquire about stock availability before placing your order. i
Please make cheques or International MO of equivalent amount in US dollar payable to See Foong Tzer.
---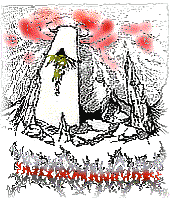 Back to Previous Necromanicide Page
Back to Necromanicide Home Page
Contact

webmaster with questions, suggestions or problems regarding this unblack service.
NOT © Copyright NOT by GodZine. Yes, you can freely download all the materials you see on this page.