Brief
Formed in early 1995, Necromanicide is Malaysia's pioneer positive hard music band.
In the begining we played at small gigs, at colleges. And along the way introducing it's own materials. Amongst the most notable of this college gigs was the first 'Battle of the bands' in Taylors College (KL, Malaysia), 1995. Where Necromanicide won Runner-Up. The crowd was immensly pleased as the band departed from the commercial taste of the night and splattered up it's own moshing concotion of metal / hardcore.
This was a great leap for the band who went on to do more gigs after that event... more doors were open and God had given the band favour with many people.
We then do a demo. Got signed to do a split album with 2 Singaporean artistes under Pony Canyon Music in 1995. It's called 'The Underground Scene'. It contained 5 tracks of Necromanicide along with Singaporean (Secular) acts Stomping Ground and Opposition Party. In late 1998, did a full length album, 'Hate Regime', again under Pony Canyon Music (HQ in Japan). Songs from there were featured in a few compilations from around the globe.
The band also played a numerous succesful gigs including a gig at the Salem Beach Blast which was attended by an estimate of 35,000 people! The band then took a short hiatus after Axeman Nick Lee went of to study in the States.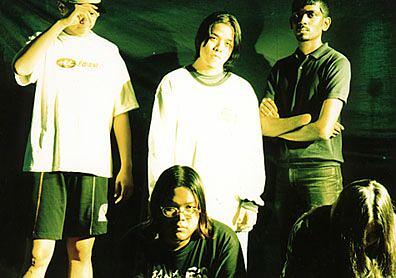 Details
The release of 'The Underground Scene' also was approached well by the Malaysian Entertainment Media who classed them as "Positive Metal". But inspite of the positive response from the media, their label Pony Canyon decided not to release a full length Necromanicide album. This was because the label felt that Necromanicide was 'out of the scene' and that Christian Metal just wasn't going to be accepted in Malaysia (Due to the fact that Malaysia is a Muslim Country). In September 1996, Necromanicide entered the studio and recorded it's latest material for it's debut album entitled 'Hate Regime'. Unlike the 'Underground Scene', 'Hate Regime' is a wider spectrum of Necromanicide's music showcasing it's maturity since it's last effort. The album being Pre-Dominantly Grindcore Thrash also showcases industrial and Hardcore styles as well. Among some of the supprises includes a song called "Unwanted Killer" which showcases the bands unusual combination of Thrash, Blues and Galactic Cowboys-like harmonies. The album also has a bonus 10th track called 'Necromancy', a song from their 1995 demo. 'Necromancy' showcases the bands early Grindcore sound with unusual Guitar harmonies remniscent of Tourniquet. Also in this album for the first time is an intrumental called 'El-Maseeh', which means 'Messiah' in arabic. Here is the list of some of the songs available on their debut album, 'Hate Regime'.

The Band Members Are
Andre : Guitarist / Vocalist
Adrian : Bassist / Vocalist
Jeret Christopher. : Drummer
Stefan : Bassist
Nick Lee : Guitarist

Exciting News (News are not upto date due to lack of commitment to pen down events)
1. In response to their mini Kuala Lumpur,Malaysian 97/98 Tour, on 29th November 97, Necro played at their third Christian gig. On that awesome night,two other bands were playing, namely, Wired and Transection

The place was jammed pack. the mosh pit was incredible. (Ouch, my neck hurts as I typed this.). Firstly, Wired did a superb alternative/grunge sound. Man, it was really grungy and ideal for the moshing fellows. They were really cool. Next is Transection. An alternative band. The crowd was very supportive and responsive to their material. Finally, when Necro played, ...the mosh pit becomes BIGGER. Man, never have a good time like this since Mortification's performance.

2. On 11th Oct 1997, Necro played at their second Christian gig. It was held in a church.

Necro played 8 songs. The crowd was very supportive and responsive to their material. However, when Necro played its most unblack killer tune, Catacomb Of Death, the crowd was mesmerized.

3. On 23th August 97, Necro played at their first Christian gig. YES !!!, it is their first Christian gig. All the while, only the secular scene is able to accept them.

Anyway, the place is called A.Y.A.. The place was jammed pack to a max of 100 people on that Fri night. Firstly, Jason of Joshua Race did a superb guitar/vocal solo. Next, a 5 piece alternative/grunge ALL GIRL band played for the oppening session. They were really cool. Lastly, Necro came on stage. Necro played only 6 songs. the crowd was very supportive and responsive to their material. However, when Necro played its most unblack killer tune, Catacomb Of Death, the crowd was generally stunned. Well, radical has its price to pay.

4. As we all may know that we appeared on national TV, TV3, under the programme called Alternatif on April 1997. The show featured performances of the songs 'Hate Regime' and 'Society from their latest album. An interesting fact was that Necromanicide was the only Death Metal band in that feature.

5. Also, Necromanicide was given the opportunity to get into the air on the Malaysian Radio Station 'Time Highway Radio'. In addition, we also hosted several 2 hour radio show there for only Christian Metal bands !!

6. Since our launch for Hate Regime album, all major English and Malay newspapers and magazines have interviewed and review our material.

7. On the 26th Sep 1998, Soul Mason, a prominent alternative/modern rock band, opened for Necromanicide at PJ, Potter's House. Again, the night is packed.


8. Later, songs from Hate Regime album were featured in a few compilations in Malaysia and one called World Wide Metal Inquisition, (label is SMI) from Sweden.


9. Much later, we are coming out in a few other compilations from the States.