Mortification
After so many albums ranging from speed/death approach to unique hardcore sounds , this 3 piece band from Australia remain one of my favourites.
---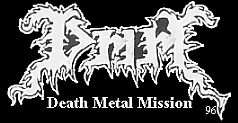 Where ?
---
Metanoia
100 % brutal death metal from Austrlia. Superb drums and brilliant lead guitar works. And, with an extremely low bassy deathly vocals !!!

Necromanicide
A band not to be missed and it is obvious that it is one of my favourites. From where ?? All the way from the capital of Malaysia. Check out their brutal Necromanicide Page ?

Contact

webmaster with questions, suggestions or problems regarding this unblack service.
NOT © Copyright NOT by GodZine. Yes, you can freely download all the materials you see on this page.